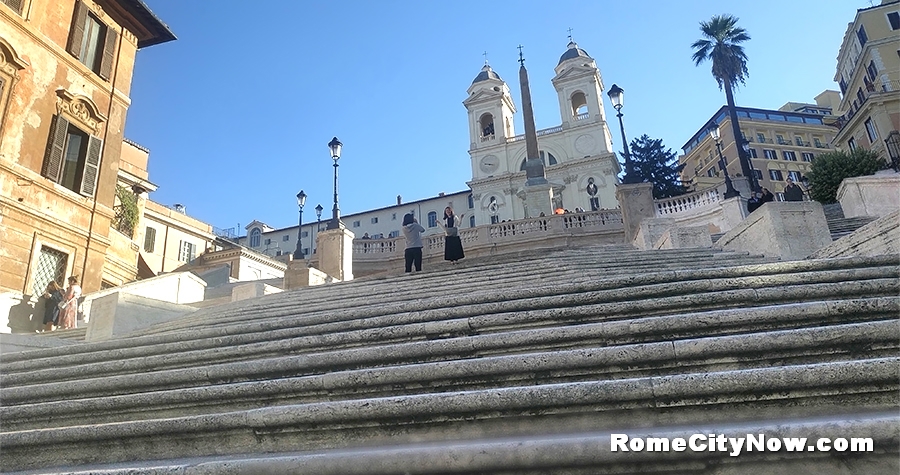 Square of Spain & Spanish Steps
Piazza di Spagna is a unique place in Rome, where every day numerous people come to relax and enjoy the surrounding beauty. Here lovers make dates and spend an unforgettable time together, friends share experiences and enjoy the true spirit of Rome, and tourists are eager to get here to see the main attractions of this place and touch the history. Poets, artists and musicians have spent time here in the past. This area is also part of famous road complex Tridente.
Historical Facts
In the 16th century, numerous French people lived in the present square. At the same time, there was built the Chiesa della Trinità dei Monti, services in which were conducted exclusively in French. Later, this place was inhabited by numerous Englishmen. Spaniards began to come here permanently in the early 17th century.
A little later, Spain bought a luxurious Palace located on the square and placed its Embassy there. This was the reason that the inhabitants began to call the area Spanish, or di Spagna in Italian.
The imposing 135-step staircase was inaugurated by Pope Benedict XIII.
Piazza di Spagna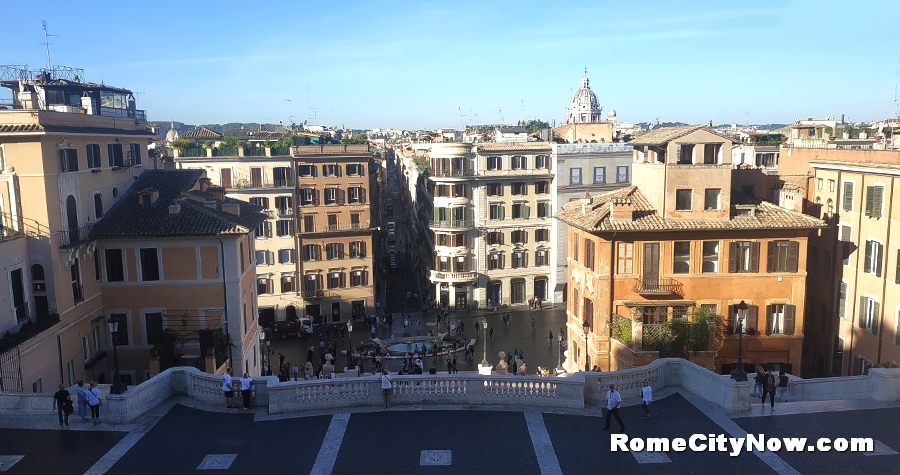 The monuments of Piazza di Spagna
1. The Spanish Steps or La scalinata di Spagna in Italian, which became a symbol of Rome, made in the Baroque style, which is a delightful architectural masterpiece. It was built in 1726 from travertine and subsequently glorified its creators throughout the world. It impresses with its impressive size, as well as the fact that the steps and spans between them vary in shape and size. So, if you first visit this architectural wonder, be careful when going upstairs it. The Spanish steps were used for various events and celebrations throughout its existence. At the present stage, every year in the summer there are fashion shows here.
2.Sallust Obelisk has a huge height of 14 meters and is an imitation of obelisks typical of ancient Egypt. This monument was installed on the square in 1789. It is very original, as it is decorated on the sides with stylized hieroglyphs.
3. The Church of Trinita dei Monti or Santissima Trinita al Monte Pincio in Italian was built in 1585 and has since been restored only once. An Egyptian-style obelisk is located directly opposite it. There is an observation deck at the entrance to the Church, which offers a beautiful view of the city. Giacomo della Porta and Carlo Maderno worked on the facade of this magnificent monument of architecture. The uniqueness and originality of this delightful creation is that it is a combination of Romanesque and Gothic architectural styles, but the dominant here is the Baroque. The Church is beautiful not only outside, but also inside. Its walls and vaults of the chapel are decorated with amazing paintings, which are the result of handwork of famous masters who lived during the construction of this wonderful monument of history.
4. Bakaccha Fountain or Fontana della Barcaccia in Italian. This grandiose work is located at the foot of the Spanish steps. It is designed in the form of a sunken boat, as it was built in memory of the flood that took place in 1598. The fountain is not replete with many architectural or artistic decorations. Its value lays in another-honouring the memory of the victims of the terrible flood. That is why thousands of people visit Piazza di Spagna and seek to see this creation of the architect Pietro Bernini.
Map of city + hotels and apartments
Piazza di Spagna today
The modern square is the most fashionable quarter in Rome. From here originate numerous streets, where boutiques of world brands are located. That is why hundreds of shoppers are eager to get here and plunge into the world of fashion and luxury, bordering on historical monuments. This place is filled with a unique atmosphere, combining the spirit of antiquity and modernity.
The square is also bordered by streets where you can find excellent ateliers and order a luxurious outfit in memory of the visit of this amazing place. Here you will also find on sale original paintings painted by modern Roman artists.
All the architectural monuments of Piazza di Spagna are illuminated in the evening and look fabulous and unforgettable.
Tourists also have the opportunity to visit other attractions located near Piazza di Spagna:
Famous streets nearby Via del Babuino, Via dei Condotti, Via della Croce.
1. Keats and Shelley house Museum, located to the right of the Spanish steps.
2. Babington's tea room, which was opened in 1893 and still keeps the rich atmosphere of the last century, located at Piazza di Spagna 23.
1. Cafe El Greco, founded in 1760. Here you can taste delicious dishes of Roman and Italian cuisine located at Via dei Condotti 86. This cafe was very popular among artists and poets in the past.
Fontana della Barcaccia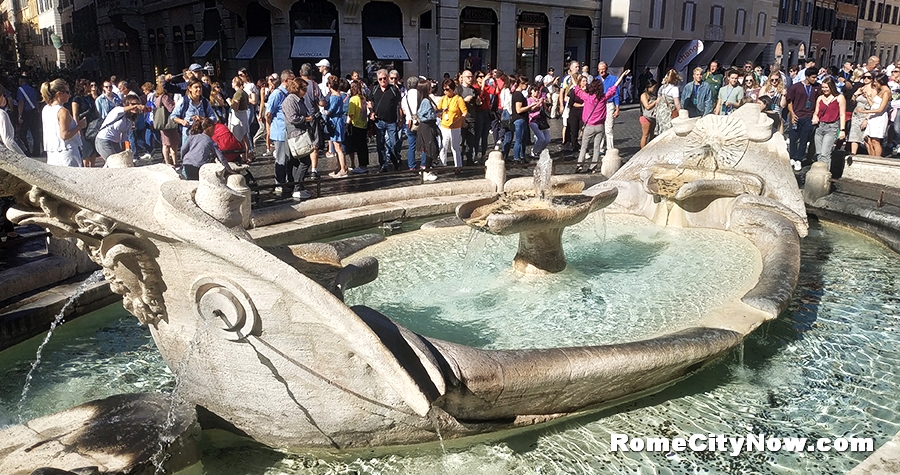 Accommodations near Piazza di Spagna
The Inn Apartments Spagna by The Goodnight Company 4*
Condotti Charme - My Extra Home 3*
Condotti 29 3*
The Inn at the Spanish Steps 4*
Piazza di Spagna 9 4*
iH Hotels Piazza di Spagna View 4*
Croce 3*
Sonder - Spanish Steps Lofts
Condotti Palace 4*
My Suites Piazza di Spagna 4*

The best hotels to stay in this area by reviews: Hotel Scalinata Di Spagna, Relais Pierret, Hassler Roma
.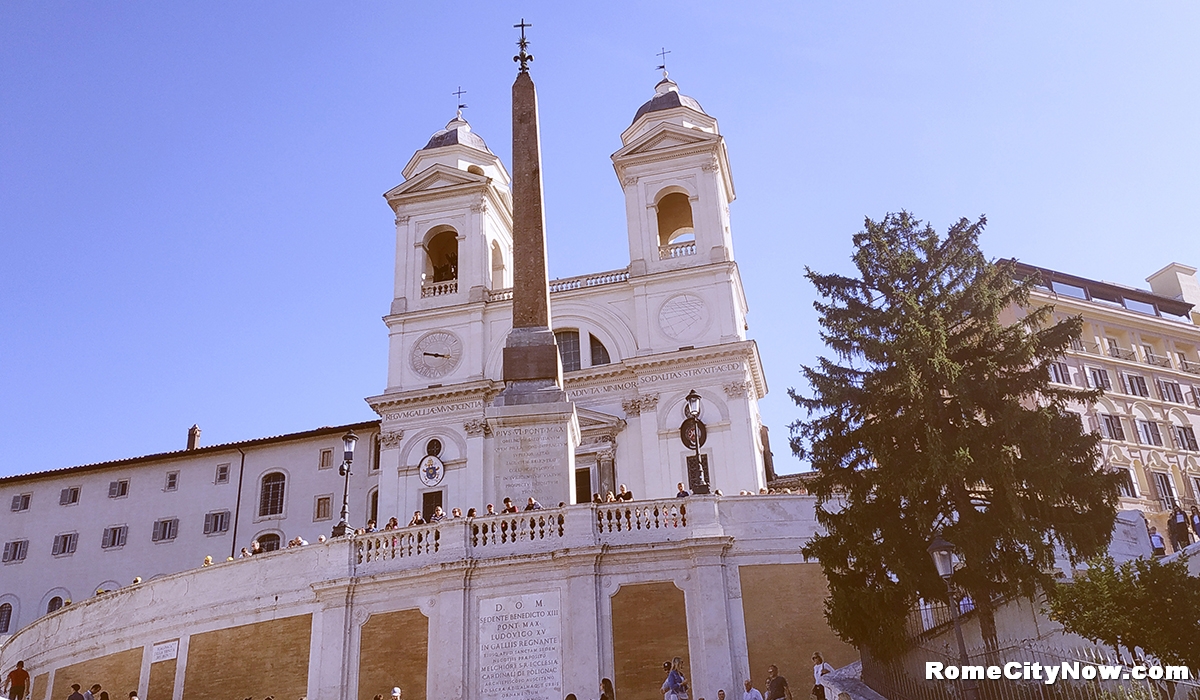 Prices in Rome
Book the Luxury hotels in Rome
Book the Family hotels in Rome
We wish you a wonderful walk!
Share This
---