Rione Ponte, Roma
Ponte is the 5th rione of Rome, identified by the initials R. V, located in Municipio I. The name comes from Ponte Sant'Angelo, which is also depicted on the coat of arms and belonged to the Borgo district until the district was founded by Pope Sixtus V in the 16th century.
In ancient Rome, this area was part of the , was considered part of Campo Marzio. The current Sant'Angelo Bridge occupies the ancient Elio Bridge, built by Emperor Hadrian to connect his mausoleum with the rest of the city. Another bridge was built by Emperor Nero and was called a triumphal one because the Via Trionfale (later Sacra) passed through it, which was forced to cross by armies returning from battles. Later this bridge was called pons vaticanus because it connected the Vatican City with the rest of the city.

In the 16th century, the Rione had important streets such as Via Giulia and Via dei Coronari, which is why several palaces of the greatest families of Rome were built by renowned artists, making the area very famous. Although Ponte was a fairly affluent area, it suffered the most from the frequent flooding of the Tiber River. The appearance of the rion changed completely after Rome became the capital of a reunified Italy in 1870: river embankments were built to stop flooding and new bridges were built connecting the Vatican and Prati Rion with the rest of Rome.

Churches located in Rione Ponti: Basilica di San Giovanni Battista dei Fiorentini, Basilica di Sant'Apollinare, Chiesa dei Santi Celso e Giuliano Chiesa di San Biagio degli Armeni, Chiesa di San Salvatore in Lauro, Chiesa di Santa Maria del Suffragio, Chiesa di Santa Maria dell'Anima, Chiesa di Santa Maria della Pace.

Interesting and beautiful places in Rione Ponti, Lungotevere degli Altoviti, Lungotevere dei Fiorentini, Lungotevere Tor di Nona. Fontana del Leone on piazza San Salvatore in Lauro, Fontana della Terrina on piazza della Chiesa Nuova. Palazzo Gambirasi, Palazzo Lancellotti, Palazzo Milesi, Palazzo Sacchetti. Via dei CoronariVicolo Domizio, Largo di Febo, Via dei Filippini, Largo dei Fiorentini, Via Giulia, Vicolo delle Vacche.

Basilica Santi Celso e Giuliano in Rione Ponte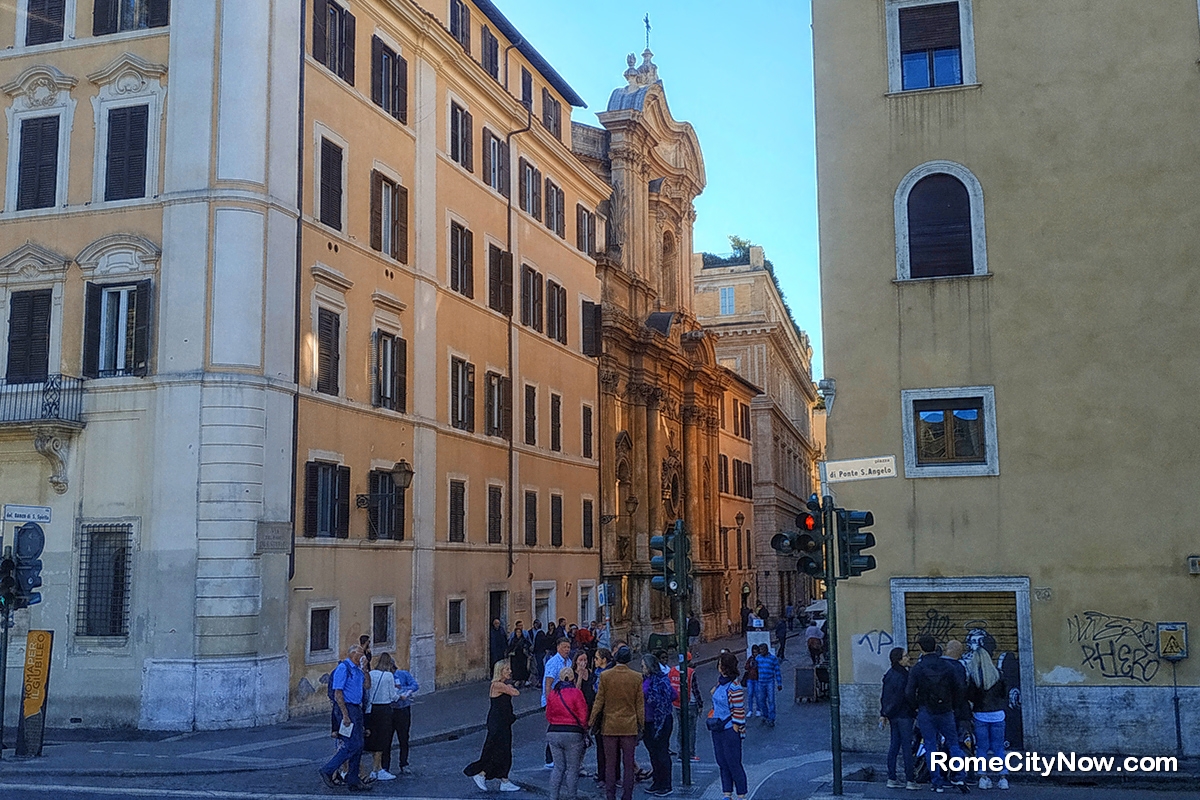 Accommodations in Rione Ponte, Rome
HiSuiteROME 4*
Impero Vaticano Navona Apartment 4*
La Residenza Dell'Angelo 4*
Corso Vittorio 308 4*
Raffaello Charmsuite 4*
Maison Ottavia 4*
The Bridge Suites 4*
Locanda degli Antiquari 4*
Terrazze Navona 4*
Relais Giulia 4*
Navona Queen Rooftop 4*
Gonfalone 6 4*
Palazzo Medusa 4*
Palazzo Donarelli 4*
iFlat The Roman Terrace 4*
Charming Suites Navona 4*
Navona Luxury Guesthouse4*
Rome Luxury House - The House 4*
Charme 3084*
YourSuiteRome 4*
Residenza Ave Roma 3*
Coronari Palace 3*
All'Orologio 3*
Navona Street Hotel 3*
Navona Sky Palace 3*
Ronda St. Angelo Suites 3*
Casa De Fiori Apartments 3*
Il Salotto di via Giulia 3*
Boutique Hotel Atelier '800 2*
Vanity Hotel Navona 2*

Hotels & Apartments



Prices in Rome

Book the Luxury hotels in Rome

Book the Budget hotels in Rome



Share This
---