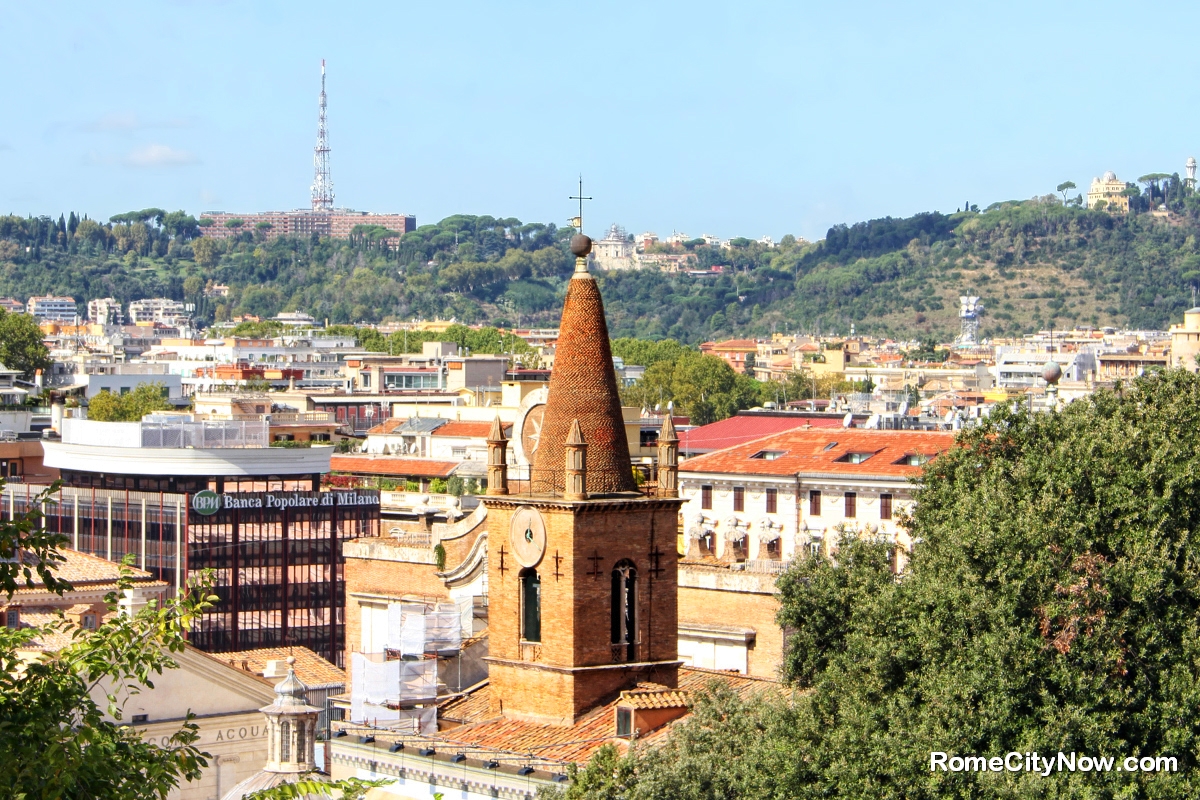 Parish Basilica of Santa Maria del Popolo, Rome
Santa Maria del Popolo is a church of the Augustinian order located at Piazza del Popolo 12, in Rome, on the north side of Piazza del Popolo, one of the most famous squares in ancient city. The church is located between the Pincian hill and Porta del Popolo, one of the gates of the Aurelian wall, and the starting point of Via Flaminia, the most important route from the north. View in photo from Terrazza del Pincio.
Pope Paschal II in 1099 built a chapel in this place, near the city wall, using public money, which gave the name of the square itself. In 1227, the chapel was expanded by Pope Gregory IX, who also ordered the transfer of the image of St. Mary from the chapel of the Most Holy Savior in Lateran to the new chapel. Under Sixtus IV, the architect Giovannino de Dolci erected the present building in 1472-1477 on the basis of a Romanesque chapel from 1099.
The interior was thoroughly rebuilt by Donato Bramante, Raphael, who created the Chigi chapel, Gian Lorenzo Bernini under Alexander VII, Carlo Maderno, who in 1665-1660. redesigned and expanded the Serazi Chapel.
The urban setting of the basilica changed fundamentally between 1816 and 1824 when Giuseppe Valadier created the monumental Neo-Classical ensemble of Piazza del Popolo, commissioned by Pope Pius VII.
Well-know cafes Caffè Vergnano 1882, one of them located near church at Piazzale Flaminio 5.
Iconic high-end Italian restaurant, cafe & bar and sidewalk terrace called Canova Piazza del Popolo, working since 1952, located at Piazza del Popolo 16. Here is another one elegant restaurant, serving high-end, famous Dal Bolognese, located at Piazza del Popolo 1.
Accommodations near Piazza del Popolo in Rome
Via della Fontanella 15 - Hotel Valadier 4*
Via di Ripetta 12 - Ripetta Luxury Del Corso 4*
Via del Corso 4 - Tridente Suites 4*
Via Del Babuino 9 - Rocco Forte Hotel De Russie 5*
Via Di Ripetta 2 - Ripetta Palace 3*
Piazzale Flaminio 9 - Relais Piazza Del Popolo 5*
Via Maria Adelaide 12 - DA ME Suites 4*
Via Flaminia 21 - Popolo & Flaminio Rooms 4*
Via Flaminia 36 - Piazza del Popolo sweet rooms 4*
Via Giandomenico Romagnosi 1 - Residenza Flaminio Gaio 4*
Map of city + hotels and apartments
Prices in Rome
Book the Luxury hotels in Rome
Book the Family hotels in Rome
Book the Budget hotels in Rome
Share This
---