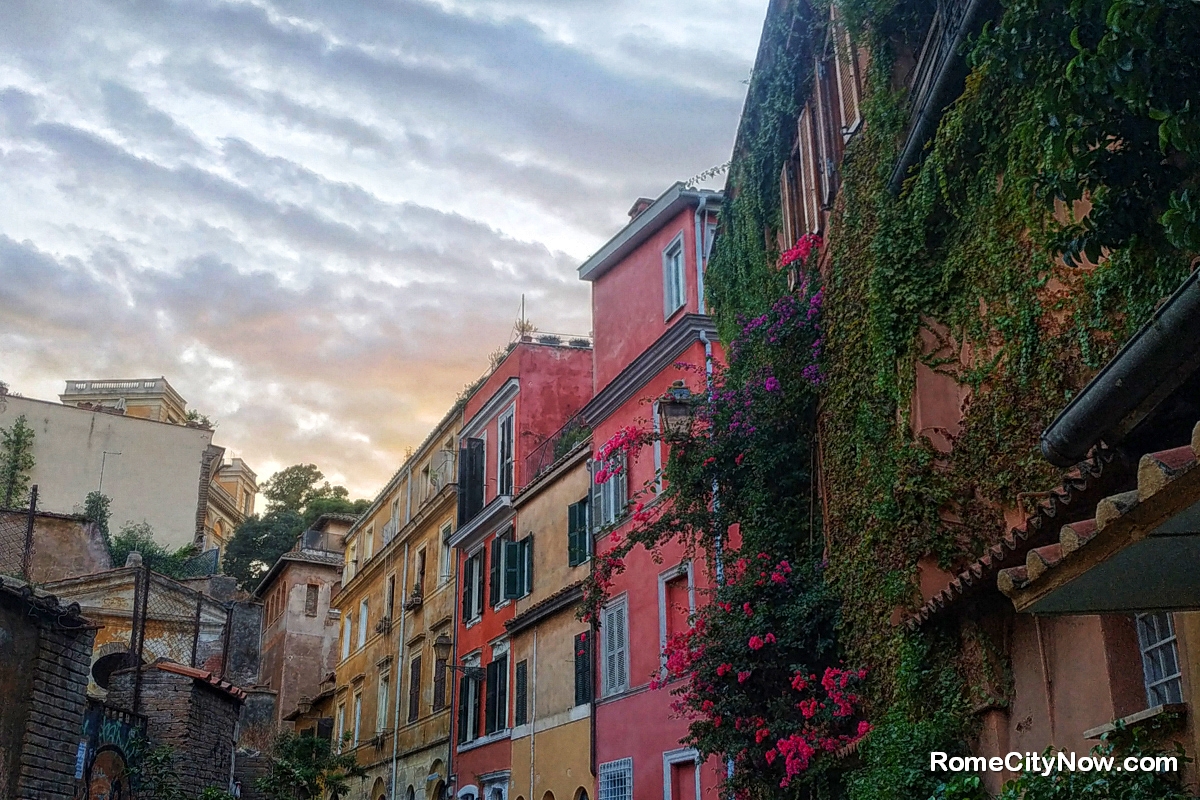 Trastevere, Roma
Rione of Trastevere is the 13th rione of Rome, identified by the initials R. XIII, located in Municipio I. Trastevere (from Latin trans Tiberim - "beyond the Tiber") is an area of narrow medieval streets on the western bank of the Tiber in Rome, south of the Vatican and Rione Borgo. Occupies the eastern slope of the Janiculum hill covers the embankment Lungotevere Farnesina, Lungotevere Raffaello Sanzio, Lungotevere degli Anguillara, Lungotevere Ripa, Lungotevere Gianicolense.
In ancient times, this bank of the Tiber was owned by the Etruscans; then foreigners settled here, most from East. Octavian Augustus singled it out as a separate area of the city, and Aurelian included it in the new city walls. The history of this area, and of Rome in general, can be found in the Museum of Rome - Museo di Roma in Trastevere, located at Piazza di S. Egidio 1/b. From the end of the Republican era, Trastevere was covered with utilitarian buildings and residential buildings, the latter intended for workers and small traders. Already in the imperial era, the area turned into a huge area: tanners, ivory producers, potters, cabinetmakers and others lived in it.
Since the 3rd century, here is the Basilica of Santa Maria in Trastevere has existed here, and today too its occupies a central position in the area, located at Piazza di Santa Maria in Trastevere, the Church of Santa Cecilia in Trastevere was built in the 5th century and rebuilt in the 12th century and received its current facade in 1725, located at Piazza di Santa Cecilia 22. Both churches are rich in works by Pietro Cavallini, Guido Reni, Domenichino and other masters.

Santa Cecilia in Trastevere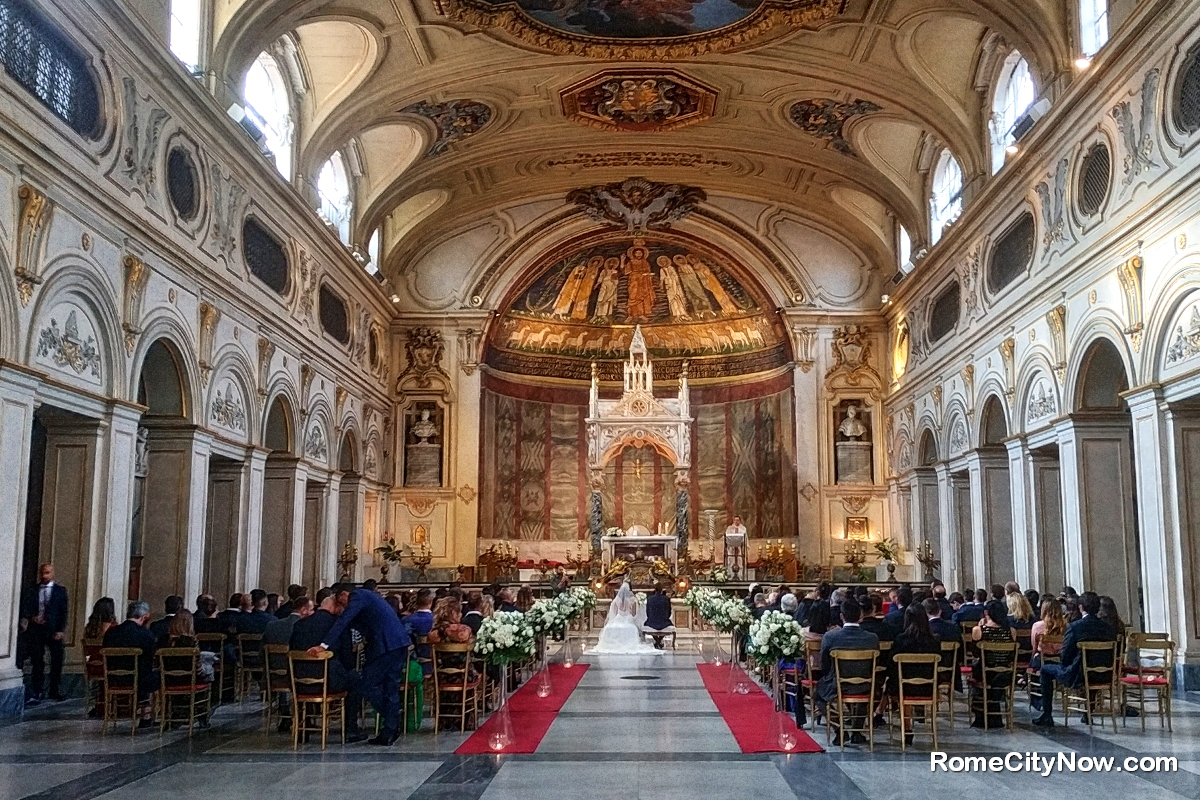 Hotels & Apartments in Trastevere on the map
The area is also includes several foreign academic institutions: The American University of Rome, John Cabot University, the American Academy in Rome, the Rome campus of the Thomas More College of Liberal Arts, the Canadian University of Waterloo School of Architecture, the American Pratt Institute School of Architecture, there are many foreign students to study here.
Today Trastevere retains its authentic look, narrow cobbled streets, old houses. In the evenings, locals and tourists gather here, in numerous night clubs, bars, pubs and restaurants. Beautiful well-know bridge Ponte Sisto leads to atmospheric square Piazza Trilussa, there are always concerts in the evenings.
Restaurants in Trastevere
La Cisterna is one of the oldest restaurant in Eternal Rome, possible date of appearance 1630, located at Via della Cisterna 13.
One of the oldest restaurant in this area Ai Spaghettari working since 1896, Piazza di S. Cosimato 58.
Family-run famous roman restaurant Corsetti 1921, founded in 1921, located at Piazza di S. Cosimato 27.
Restaurant Antica Osteria Ponte Sisto, the tavern has been operating since 1928, this atmospheric place delights with authentic Roman culinary traditions, located at Via Di Ponte Sisto 80.
Well-know restaurant Nannarella, working since 1930, located at Piazza di S. Calisto 5, next to the church Chiesa di San Calisto.
One of the most famous roman restaurant Checco Er Carettiere, opened in the 1930's, located at Via Benedetta 10.
Famous Pizerria Ivo a Trastevere founded by Ivo Stefanelli in early 1960's, located at Via di S. Francesco a Ripa 158.
Cozy atmosphere in restaurant called La Scala founded in 1982, located on Piazza della Scala 58/61.
Interesting interior and cozy atmosphere, you will really like the restaurant Il Duca in Trastevere opened in 1986, located at Vicolo del Cinque 56.
Another one nice cozy place to enjoy roman cuisine in Da Vittorio since 1988, located at Via di S. Cosimato 14.
Popular beer bar Ma Che Siete Venuti A Fà since 2001, located at Via Benedetta 25.
The Best Hotels and Apartments in Trastevere, Rome
Residenza San Calisto 4*
Malva 4*
Palazzo Velli 4*
NL Trastevere 4*
Gio' Suites 3*
Trastevere Top 4*
Tolomeo B&B 4*
Hotel Santa Maria 3*
Relais Le Clarisse 4*
Trastevere Romantic 4*
Trastevere Star 3*
Villa Corsini 4*
Trastevere Colors 3*
L'Imperiale 3*
YH SUITE 131 3*
A Trastevere da M.E. 4*
Hanky Suite 4*
Buonanotte Garibaldi 4*
Arc Trilussa 44 4*
Tree Charme 4*
Tankara Suite 4*
NL Trastevere 4*
L'antica porta di Trastevere 4*
Charming Trastevere Apartment 4*
Villa della Fonte 3*
S.Apollonia Suite Trastevere 4\3*
Etruska luxury Trastevere 4*
VOI Donna Camilla Savelli Hotel 4*
Hotel Trastevere 3*
Baylon Suites 3*
Etruska luxury Trastevere 4*
Landlord in Trastevere 3*
Terrazza Munira Trastevere 3*
Top Floor Trastevere 3*
Sonnino Suite 3*
La Gensola In Trastevere 4*
Hotel San Francesco 3*
Luxury Trastevere 4*
Core De Roma Suites 3*
Scent Of Trastevere 3*
Magia in Trastevere 4*
Spectacular Luxury Flat in Trastevere 4*
Rental in Rome Trastevere Atmosphere 4*
Trastevere Royal Suite Trilussa 4*
Calisto Luxury Trastevere 4*

Atmospheric lane in Trastevere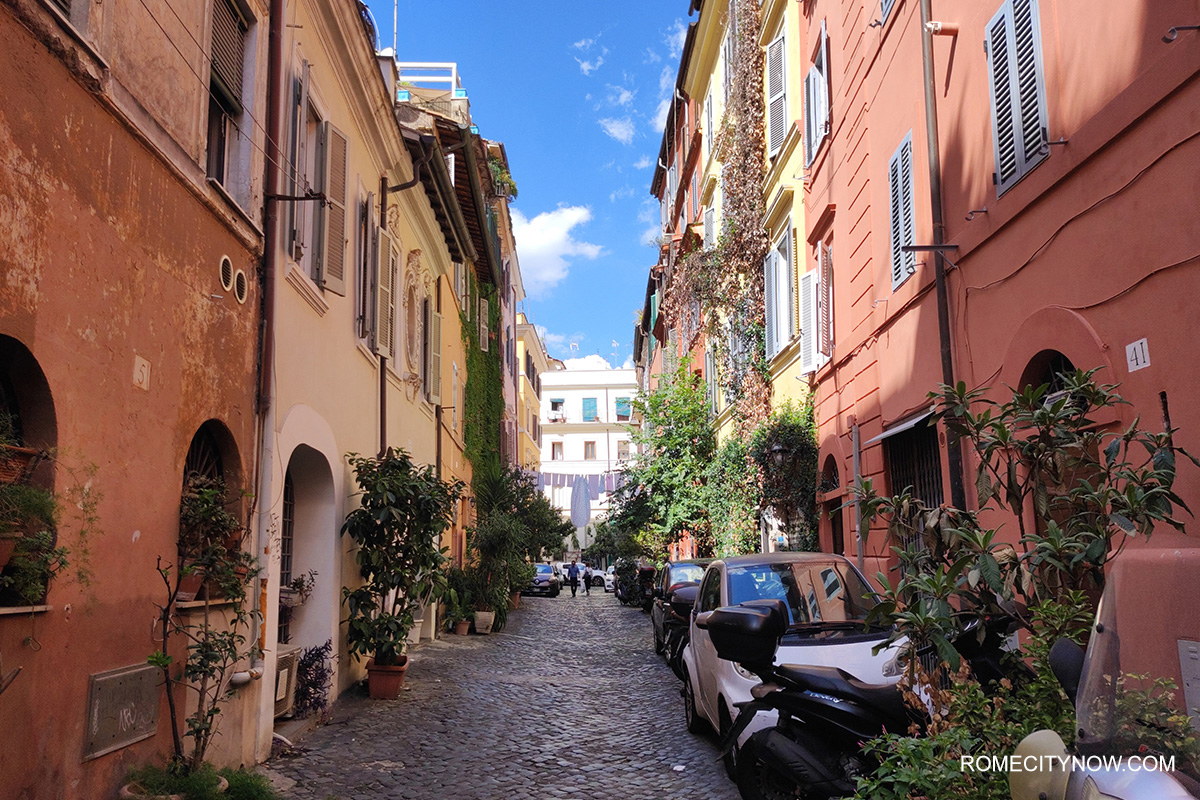 Atmospheric restaurant in Trastevere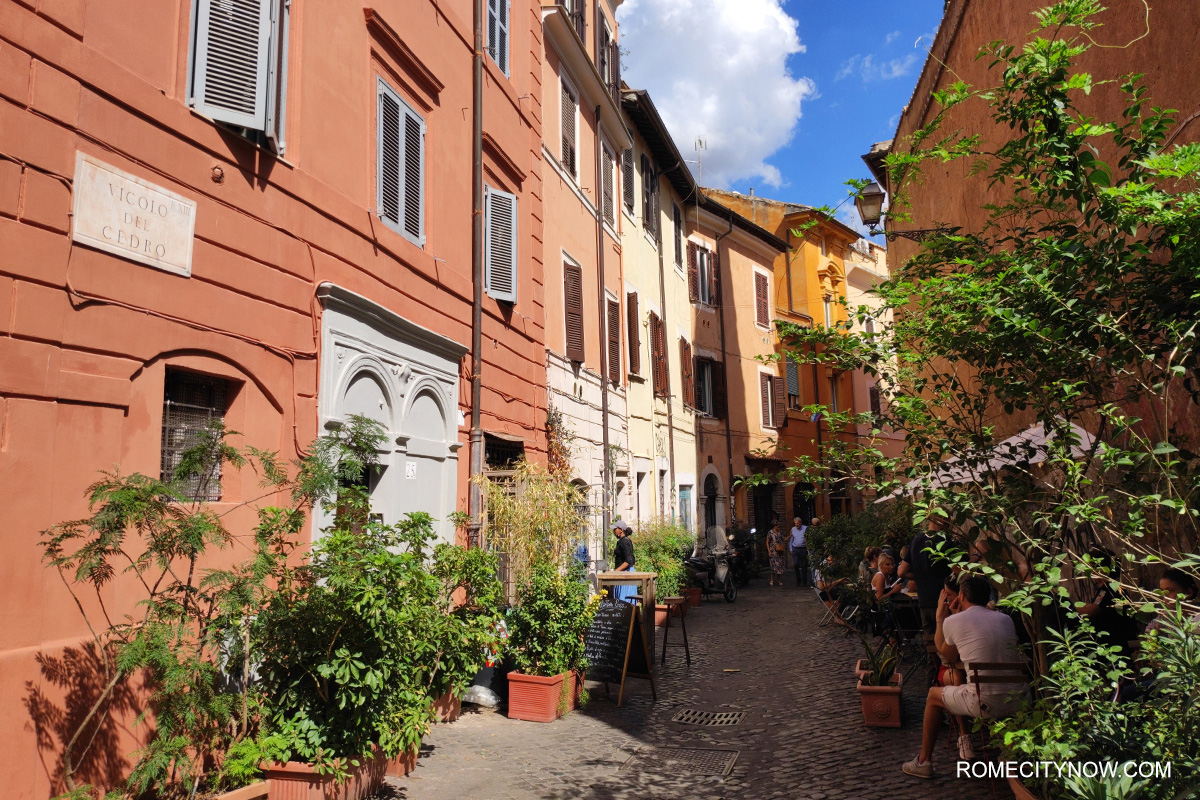 Walk along the cozy street in Trastevere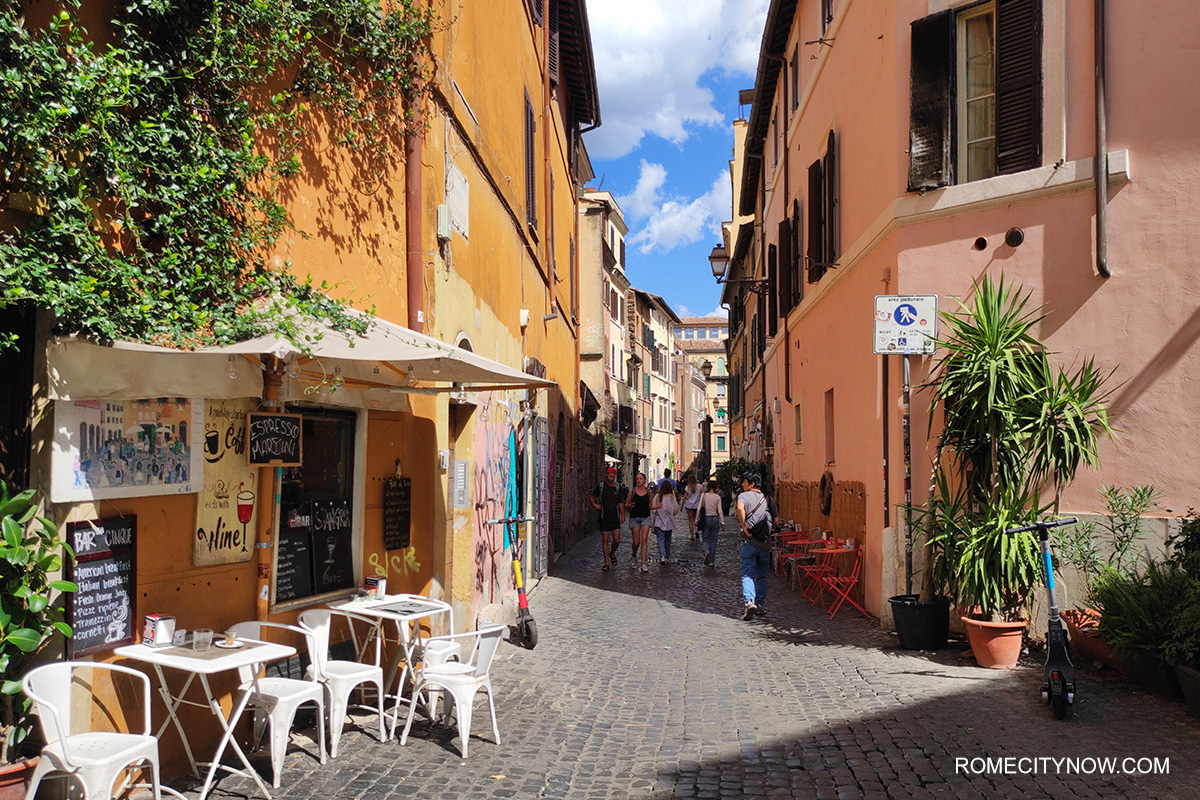 Hotels & Apartments in Trastevere on the map
Prices in Rome
Book the Luxury hotels in Rome
Book the Family hotels in Rome
Book the Budget hotels in Rome
Share This
---