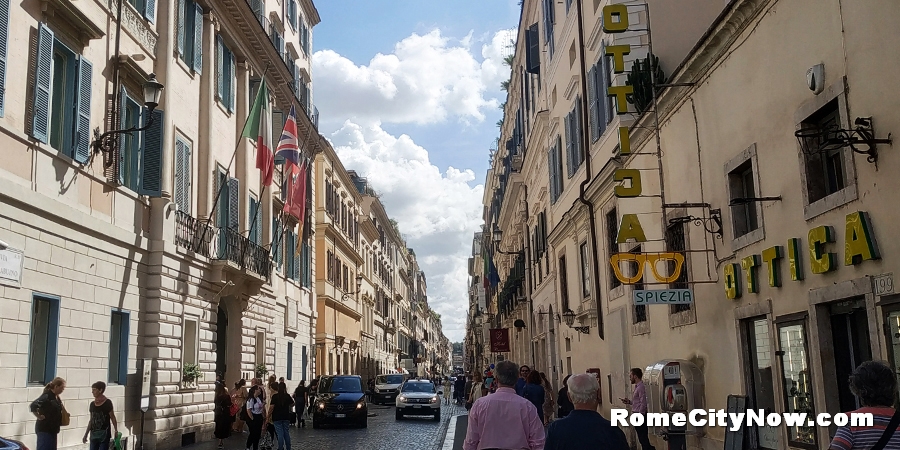 Via Del Babuino – the Heart of Rome
One of the central and most beautiful streets in Rome is Via Del Babuino. Every tourist arriving in Italian capital should definitely visit it to enjoy the architectural monuments located here.
History
The history of the street began in the XIV century. It had 2 names in that time – Via dell'Orto Di Napoli and Via Del Cavalletto. An unusual fountain, which was decorated with a statue of Sileni, was installed here in 1571. It was the embodiment of the ancient deity of springs and fountains.
The appearance of the fountain has deteriorated over time. This was the reason that the locals began to call it a baboon. This name was applied to the street later. Rome's residents and visitors have called it Via Del Babuino since that time.
Via Del Babuino Today
The street is part of the world-famous road complex called Trident. It ends with Piazza Di Spagna and Piazza Del Popolo. Both of these squares are very attractive for numerous tourists who come here every day.
There are also many great attractions here that will definitely impress you with their grandeur and beauty. If you are planning a trip to Rome, you should definitely go to Via Del Babuino to get an unforgettable experience of modern buildings and majestic monuments of history and architecture.
This street is also famous for a number of brand stores, Kenzo, ASPES, Miu Miu, GIVENCHY, Tiffany & Co., Tory Burch, Moschino, Kiehl's, Pinko, Roberto Coin, TUMI.
Emperio Armani located on Via del Babuino, 140
Emperio Armani on Via del Babuino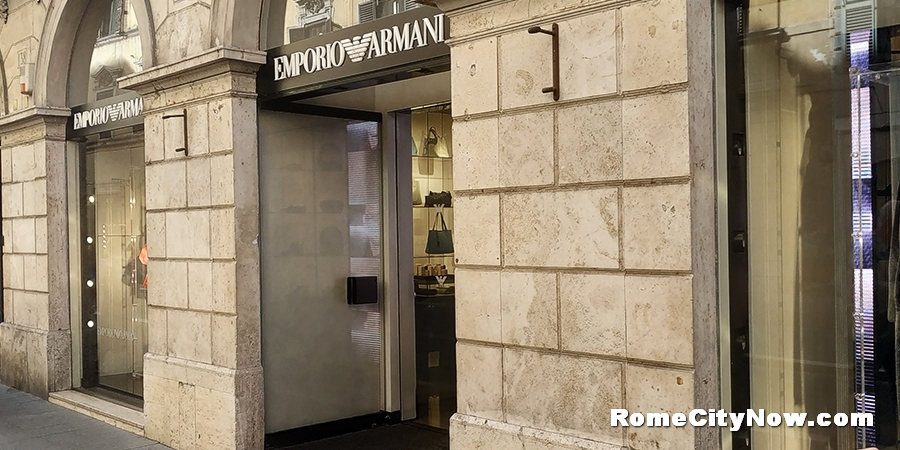 Nearby: Via dei Condotti, Via della Croce
Palazzo Nainer
A modern hotel offers luxurious rooms to guests of the Italian capital. It is located in a building that was built in the 19th century. Numerous antique shops, art galleries, and designer boutiques can be found in the immediate vicinity of the hotel.
Another 5 star hotel located here in historic building, called Hotel De Russie founded in 1901.
All Saints Church
You should definitely visit this Gothic temple. Its interior will amaze you. Its oak floors, beautiful stained-glass windows decorated with semi-precious stones and basalt, and marble columns deserve special attention. In addition, the opening of the music Opera festival takes place here annually in September.
St. Athanasius Church
The church was built in honor of one of the Greek fathers of the Church, Saint Athanasius. There are two signs on its facade. Inscriptions in Greek and Italian are written on these tablets. The church is Catholic. However, the liturgy follows the Byzantine ritual here. This rather unusual combination attracts both tourists and local residents. The wooden iconostasis, created in the 19th century, and interesting frescoes dating from the 16th century, deserve special attention from the interior of the church.

Check the Historic Hotels in Rome
.
Hotels & Apartments
Prices in Rome
Hotels near Colosseum
Most Popular Attractions in Rome
Check the photo gallery of hotels by clicking the link on the map, after you can book a hotel you like.
Share This
---