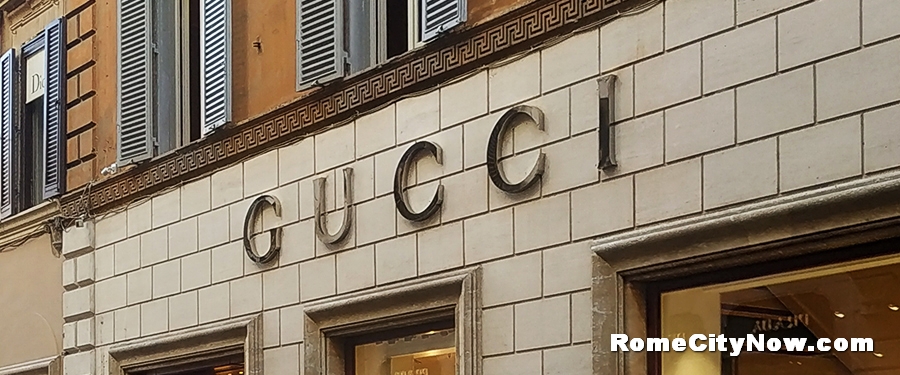 Shopping in Rome, where to buy, shops, outlets
Rome is considered to be a historical center, which is known throughout the world for its grandiose monuments of ancient architecture. However, many tourists come to this magnificent city every year also to make shopping. Rome attracts more and more fans of fashion and branded clothing and accessories by the presence of numerous boutiques and outlets in which they can buy both affordable things and expensive exclusive models.
Zara in Rome
Is it possible to buy quality and inexpensive things in Rome?
Many people believe that it is impossible to find quality clothes, shoes and accessories at affordable prices in Rome. However, this is not true. Despite the fact that Rome is a modern center of Italian fashion and it abounds with a huge number of expensive brand boutiques, it is also possible to find quite high-quality things at affordable prices here.
There are bottegs, which sell quality things at affordable prices, in Rome. Low prices are associated with the low popularity of these stores among locals and tourists, as well as the lack of retail intermediaries, as all products come here directly from the manufacturers. There is a high probability to find here high quality products made of natural materials such as cashmere and leather.
Quality things at affordable prices can be purchased on the streets of Via Nazionale, Via Cola di Rienzo, Via Condotti. Shops such as La Standa, Upim and Coin are located nearby. There is also a market Mercato delle Puici, where you can buy a quality jacket made of genuine leather for less than 20 EUR.
Emperio Armani in Rome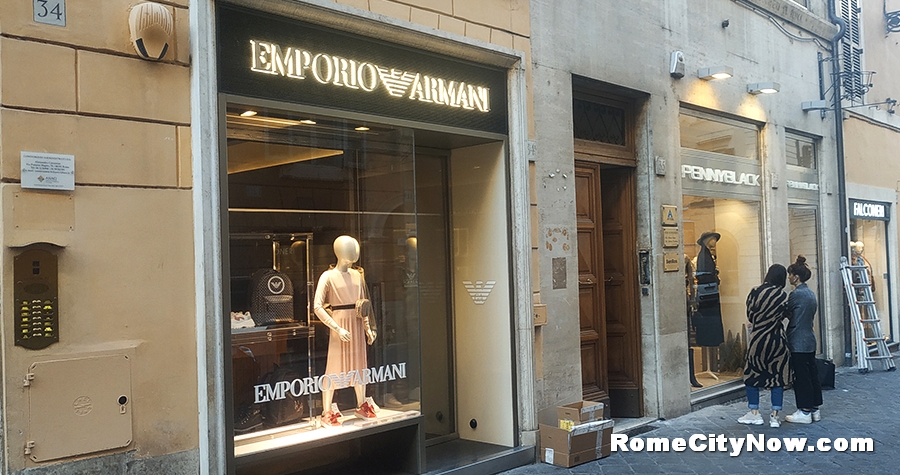 Luxury shopping in Rome
If you come to Rome for the purpose of shopping and have a considerable amount of money that you are willing to spend on expensive things of famous brands, then you should go straight to the Piazzi di Spagna. It is around this square are the streets where you can find the most expensive boutiques of famous brands.
You can visit the shops of world-famous luxury fashion houses, such as Versace, Chanel, Valentino, Armani, Dior and many others, located on the streets of Via Del Babuino, Via dei Condotti, Via della Croce.
A shirt or skirt of the new Dolce and Gabbana collection, for example, costs just fewer than 1,000 EUR, a silk blouse with a floral print Giorgio Armani you can purchase for 880 EUR.
Map of city + hotels and apartments
Outlet Diffusione Tessile
This is a major store with a broad range of women's clothing Max Mara brand. Here you can buy coats, jackets, blouses and many other items of women's clothing at prices that are much lower than prices in boutiques, but the quality is quite high. You can also find quality shoes, bags and accessories made of natural materials in this outlet.
Diffusione Tessile is located about 30 km from Rome, which allows saving on renting retail space and sell products of past collections at prices that are 35-45% lower than the original cost of the product. So, you can buy here a luxurious handmade coat for only 200 EUR, and a skirt or pants will cost you 80-100 EUR.
You can get to the outlet by bus, which departs from the metro station "Laurentina" in the direction of Pomezia. You can also book a personal shopping tour accompanied by an experienced guide. If you get to the outlet by car, you can park it in the parking lot.
Castel Romano Designer Outlet
Every visitor to the outlet Castel Romano is sure to leave it with a purchase, as it sells products of famous brands with a grand discount from 30% to 70%, which is valid throughout the year.
This outlet is huge and has more than 150 boutiques of famous brands such as Roberto Cavalli, Valentino, Diesel, Guess and many others, including famous sports brands. You will be able to buy here not only clothes and shoes of famous brands, but also accessories, linen, household goods, perfumes, appliances and much more. But the most important thing here is not a huge range, but very affordable prices.
nice bonus is the opportunity to get back the amount of value added tax due to the availability of tax-free services.
You can visit the restaurant or cafe after shopping, located on the territory of the outlet. Huge parking, playgrounds, ATMs - all this awaits all visitors of Castel Romano.
You can reach the outlet, which is located 25 km from Rome, by car, bus or by shopping tour. The road takes only 30 minutes one way. The bus from Rome departs from Via Marsala 71 and Via Ludovisi 48 stations.
Kenzo in Rome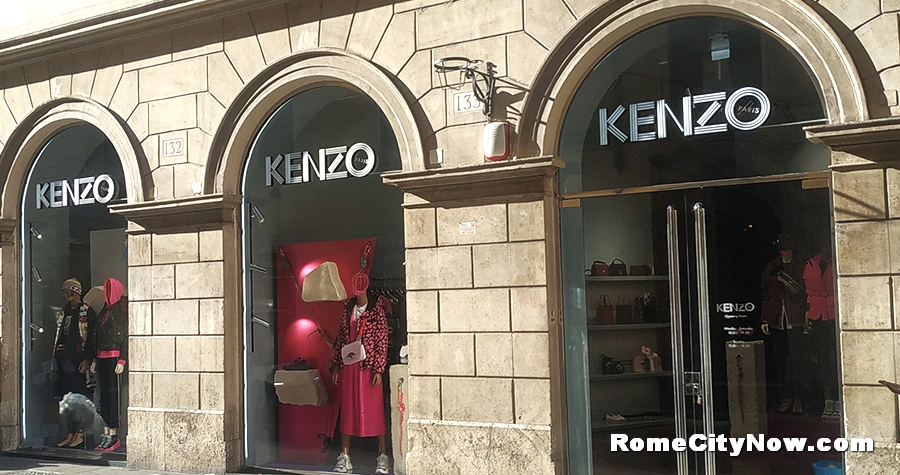 Fashion District Valmontone Outlet
It is one of the largest outlets located in the suburbs of Rome, where you can purchase clothes, accessories and shoes for women, men and children. Perfumes and cosmetics, children's goods and toys, jewelry and bijouterie of famous European brands are presented here in a wide range at affordable prices. You can purchase clothes, shoes and accessories such brands as Guess, Levi's, Adidas, Timberland and others in the outlet.
You can also find on the territory of the mini-town, which is an outlet, cafes, restaurants, ATMs and numerous entertainment for children.
The outlet is located just 40 km from the Italian capital. You can reach it by car, bus or taxi in just 30 minutes. You can also take the train, but in this case you will arrive at the railway station, from which the outlet is still 50 km away. If you decide to get to the outlet by bus, you will need to find a stop Via Marsala, 71. That's where the shuttle goes to the outlet. But please note that tickets need to be booked in advance. If you still decide to go to the outlet by taxi, you can call it on the phone. But it is worth understanding that for such a trip you will have to pay about 1.5 EUR per km.

Outlet Village Soratte
It is an amazing shopping center that combines the beauty of classical architecture and the spirit of modern fashionable Rome. Its uniqueness also lies in the fact that it is located on the territory of the reserve. The most pleasant shopping awaits you here, as you will be able to make profitable purchases and enjoy the clean mountain air and the beauty of the surrounding nature.
70 outlet stores of Italian and foreign brands offer products with discounts of up to 70% throughout the year. You can buy clothes, accessories, household goods, appliances and more at low prices here.
The road to the outlet from Rome takes about half an hour. You can come here by car and leave it in the large Parking lot. Shuttle buses also travel here daily from Rome. You need to come to the stop on Via del Vignola to get the bus to the outlet. The price of a one-way ticket is only 1 EUR.
Visiting modern Rome, you can enjoy not only the historical monuments, but also get a real pleasure from shopping. Many shops of different price categories from inexpensive outlets and luxury boutiques selling expensive exclusive things are waiting for you in the Eternal City.
Clothes

T-shirts - 20-60€
Shirt - 35-80€
Jacket - 30-90€
Blouse - 25-70€
Skirt - 2-4,50€
Bags - 20-100€
Socks - 3-15€
Jacket and Suit

Jacket - 25-80€
Suit- 150-500€
Footwear

Sneakers - 35-150€
Shoes - 35-200€
Please keep in mind that the cost of clothes in Rome can vary depending on specific shops or outlets.
Shopping Malls in Rome
Luxury hotels in Rome
Family hotels in Rome
Map of city + hotels and apartments
Share This
---