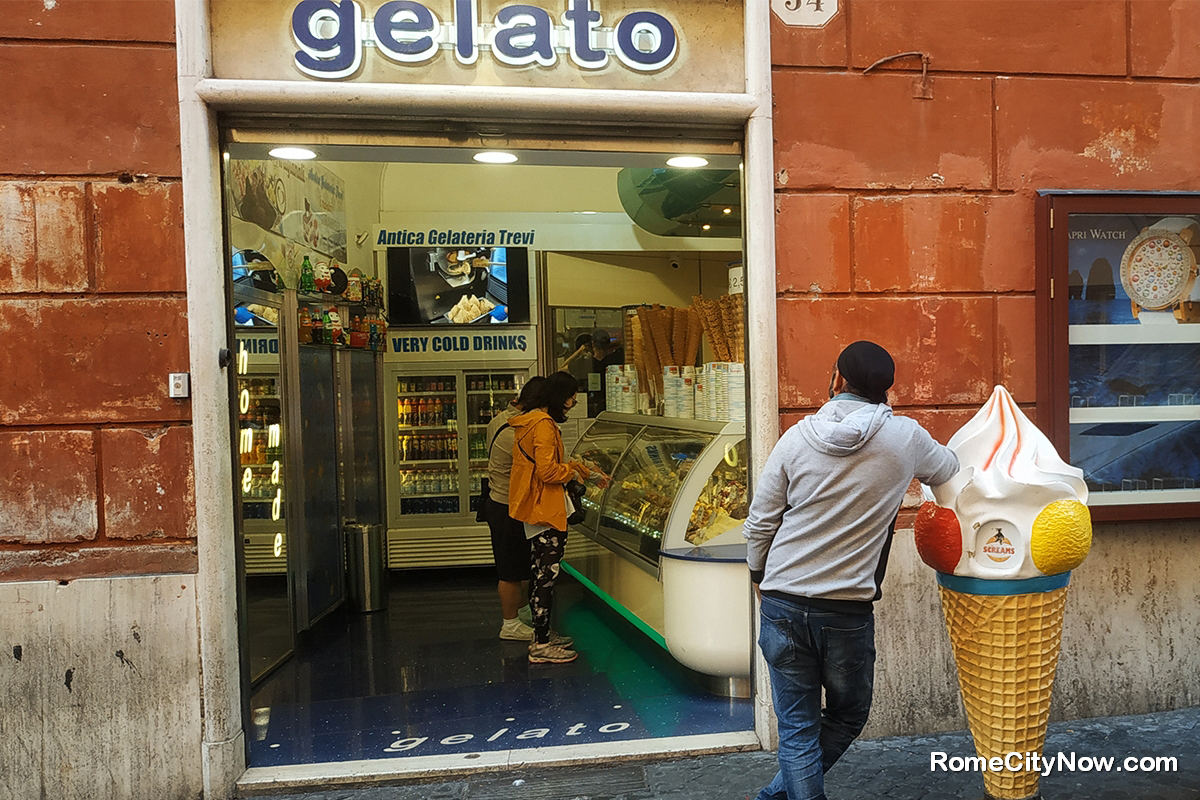 Via del Lavatore, Roma
Via del Lavatore - a street in the historic center of eternal city, leads to the most famous fountain in Rome Fontana di Trevi and connects with Via delle Muratte.
It is always crowded here, an indescribable atmosphere, everyone wants to take a picture with a magic fountain, the street is full of hotels, restaurants, ice shops and souvenir shops. Long-standing shop Ciavatta dal 1956, offers an array of local delicatessen, gourmet cheeses & takeaway meals, located at Via del Lavatore 31.
Everyone should enjoy Roman ice cream, here is family Gelateria Cecere, opened in 1956, located at Via del Lavatore 83/85. Another classic family business Gelateria Valentino, thanks to the efforts of Valentino and Cecilia, is located near the Trevi Fountain at Via del Lavatore 96, making it very accessible to tourists and locals alike.
As we know, one of the main food in Italy is pizza, welcome to well-know pizzeria Piccolo Buco working here since 1916, located at Via del Lavatore 91
Family-owned store La Sella Roma since the late 70s, selling beautiful handmade leather goods such as bags, wallets, backpack and others, located at Via del Lavatore 16.
Among the most characteristic lanes of the historic center, a few steps from the fountain located at Via del Lavatore 82, you can find an authentic restaurant Il Chianti Vineria since 1965, where you can taste Tuscan cuisine and much more.

Accommodation on Via del Lavatore in Rome
Via del Lavatore 30 - Trevi Palace Luxury Inn 3*
Via del Lavatore 32 - Heart Palace Fontana di Trevi 3*
Via del Lavatore 37 - Appartamento Lavatore 4*
Via del Lavatore 44 - Relais Fontana Di Trevi Hotel
Via del Lavatore 83 - Trevi Beau Boutique Hotel 3*
Hotels & Apartments
Check the Historic Hotels in Rome
.
Clothing Stores on Via Nazionale
Clothes shops like: ALCOTT, Tezenis, Marte's, Calzedonia, Kolby, Celio, Marco Polo, Juventus Store, Timberland, MAX&Co..


Prices in Rome
Book the Luxury hotels in Rome
Book the Family hotels in Rome
Share This
---