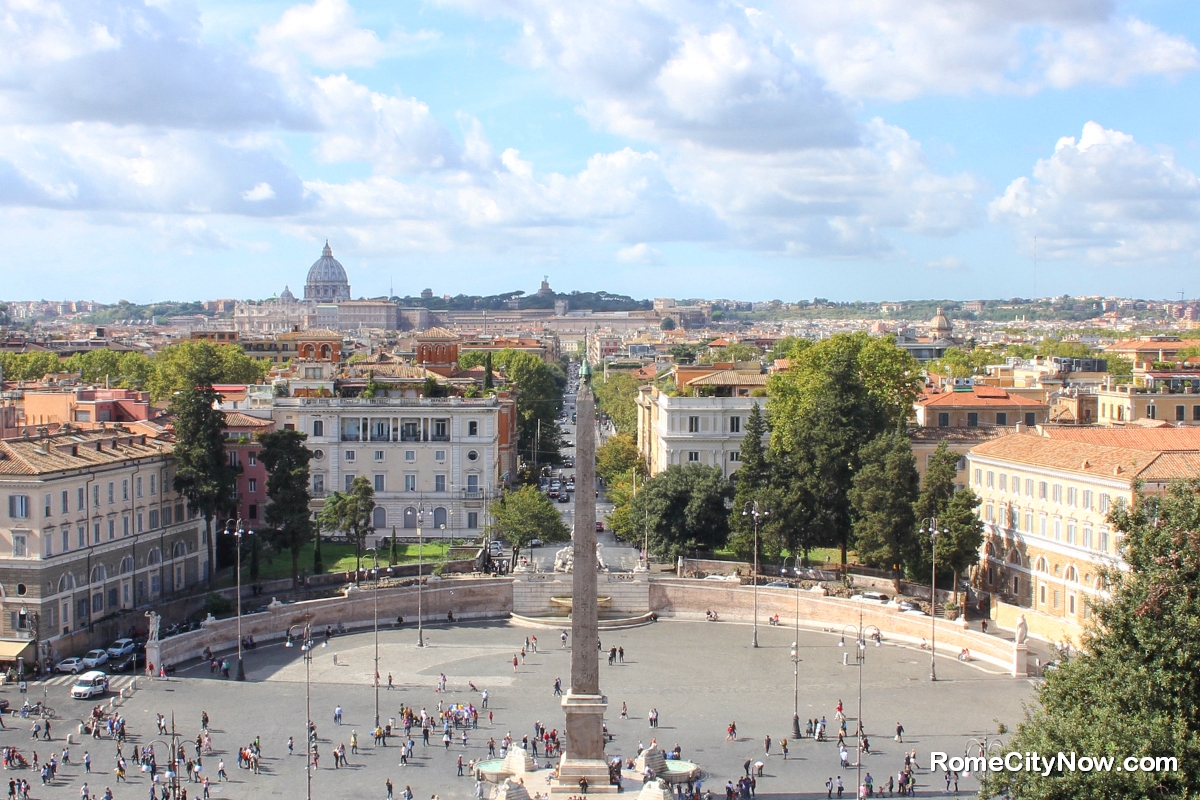 Flaminio Obelisk in Rome
Obelisco Flaminio is one of the thirteen ancient obelisks in Rome, located in Piazza del Popolo, height 25.90 meters, and together with the base and the cross 36.50 meters. It was partially built in 1300 BC. in the time of Pharaoh Seti I and completed by his son Ramses II in the XIII century BC, to be placed in the temple of the Sun or Ra Heliopolis in Egypt.
In 10 BC. the obelisk was taken by ship to Rome at the behest of Octavian Augustus. Like most Egyptian obelisks, the Flaminio obelisk was probably one of a pair, but a duplicate has never been found.
Probably destroyed during the barbarian invasions, it was found in 1587 broken into three parts along with the Lateran Obelisk and re-erected by order of Pope Sixtus V in Piazza del Popolo by Domenico Fontana in 1589. By order of Pope Leo XII in 1823, the sculptor Giuseppe Valadier decorated it with a stand with four round bowls and the same number of stone lions in the Egyptian style.
The obelisk is clearly visible on the famous Pincio hill, or rather from the terrace Terrazza del Pincio, from here you get successful photos with a beautiful background, also here nice view from northen italian restaurant Dal Bolognese Roma, located in front of the church Chiesa Santa Maria dei Miracoli.

Accommodations near Flaminio Obelisk, Rome
Hotel Valadier 4*
Tridente Suites 4*
Spagna Glamour Life Penthouse 4*
Rome Central Inn 3*
Rocco Forte Hotel De Russie 5*
Relais Piazza Del Popolo 5*
Piazza di Spagna Comfort Rooms 4*
Piazza Di Spagna Fantastic Apartment 4*
Flaminio 19 Holiday House 4*
Great Central Apartment 3
Popolo & Flaminio Rooms 4*
Piazza del Popolo sweet rooms 4*
Residenza Flaminio Gaio 4*
Map of city + hotels and apartments
Prices in Rome
Share This
---